Row by Row Experience - for info on other States, and Worldwide:
https://www.rowbyrowexperience.com/
FAQ's from the Official Website, about how to participate:
https://www.rowbyrowexperience.com/row-by-row-exp...
Oregon Row by Row:
https://www.rowbyrowexperience.com/or.htm



Here are the details!
The 2017 Row by Row theme is "On the Go". This is McKenna's first year participating in the Row by Row Experience, and we're very excited about her adorable quilt "Mama's on Mission"!


This year's Row by Row Travel and Collect period has officially ended!
The Mama's on a Mission pattern and laser kit are in "hibernation" and will be available again beginning November 1st!!!

Free Pattern: Per the official Row by Row rules, each walk-in customer is entitled one free pattern; one pattern per customer only. (Thanks for understanding! See the FAQs from the official website, above.) The "travel and collect" period is from June 21st to September 5th.

Shop Hours: We are open Tuesday thru Friday, 10am to 4pm. We are closed on Saturday, Sunday and Monday.

Customers may purchase a laser-cut fabric kit from us, which will include pre-cut appliqué pieces with attached fusible, background fabrics, as well as a pattern. Batting, thread, and other notions are also available -- everything you need to complete your row!

Participate in Row by Row's contest for the best quilt (see their website for details)!
For those unable to participate, the pattern for "Mama's on a Mission" and the laser-cut fabric kit and pattern will be available on our website, per Row by Row's rules, after November 1st.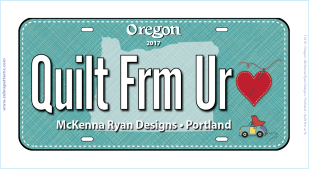 Don't forget your limited edition McKenna Ryan License Plate! Come into the store when you're collecting your free pattern or shop online now!