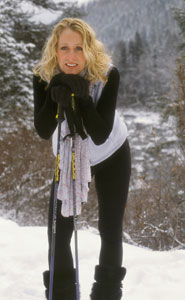 Inside McKenna Ryan's world of quilt artistry, hummingbirds hover over brilliant flowers, ducks dabble through richly marbled pools, elk bugle in lush fabric forests, eagles soar across quilted landscapes, and smoke rises wistfully from cabins in the woods, all so charmingly, you'd like to crawl right into these scenes and make yourself at home!
As a child, McKenna's greatest joy and solace came from immersing herself in nature, collecting driftwood, rocks and wildflowers to create natural one-of-a-kind art pieces. She often told her family that someday she would live surrounded by mountains, flowers and wildlife, near lakes and streams.
She decided to live closer to these dreams, by leaving a successful, corporate lifestyle in Boston and moving to the wilds of Montana. It was on the way that by chance, she wandered into a quilt shop for the first time. She was awe struck, "It was as if time stood still. The colors, textures and designs of the quilts moved me beyond words and the seeds were planted." Soon these seeds took root. As she settled into her new community of only 200 residents, McKenna discovered that many of the women spent the wintry months quilting. She took an appliqué quilting class, bought her first sewing machine for $50 and found a passion she had never known before. Living at the edge of Glacier National Park, natural beauty was all around. McKenna remembers, "I wanted to reflect this, in quilts, but at the time there were few nature-inspired patterns, so I started making my own."
McKenna soon learned that she had an innate sense of color, balance and design that were uniquely her own, and decided to start her own design company. On one of her long drives through the Rocky Mountains (two and a half 1/2 hours to the grocery store!) she looked at the beautiful pine forests and claimed the name for her company; Pine Needles. Although her first Quilt Market in 1995 was deemed a success, she found true personal success when she didn't worry about trends in the marketplace and followed her heart. At the next Quilt Market, she introduced what she considers one of her milestones, "Moose Junction." Its masculine character, yet feminine appeal, was just what the market needed and since then she has become one of the most successful quilt pattern designers in the industry.
Over the years, McKenna has discovered that designs come to her in their own time and she has learned to trust the process. "Sometimes an entire compilation will just appear in my head and I have to quickly sketch the overall composition. Then I start pulling fabrics and colors that I know will achieve a certain feel. Next I go to work on the details," cutting as many as 25 prototypes of a plant or animal before selecting one that best fits with the scale and flow of the entire piece.
"When I can connect to the creative process as a part of Creation itself and let my work fulfill a higher purpose, then I am always pleased when the process is complete. It is not so much that I have created a new design, but participated in it. The better I become at trusting this process, the more I am able to access a certain grace that is inherent in the process. This grace or connection is what I believe makes art come to life. And I believe all great art is alive."
The McKenna Ryan tag line is "Simply Beautiful…Beautifully Simple". McKenna says, "As I've grown over the years, I find that I want to challenge myself in capturing more depth and dimension with the use of fabric, while still making it a project that is easy and fun." Her method of fusible appliqué is truly as easy as trace, cut, iron, then add stitches. One of her favorite tools is the Appliqué Pressing Sheet™, which allows her to assemble small overlapping pieces together before fusing them to the background. She finishes her designs with free-motion machine quilting; this one step process stitches down the appliqués and quilts the entire piece at the same time.
McKenna loves the idea of quilting as a 'living art.' " When I design, one of the greatest gifts is the awareness that what I create is going to come to life again and again in a myriad of incredible and unique ways." When she began her company, part of McKenna's mission statement was that she wanted to somehow touch the lives of others through her art. Over the years, her designs have touched the lives of many. There is something inherent about McKenna's work that have a healing effect as witnessed through hundreds of letters and emails. Though she is excited about new business ventures and upcoming designs, this is the aspect of her work that means the most to McKenna.