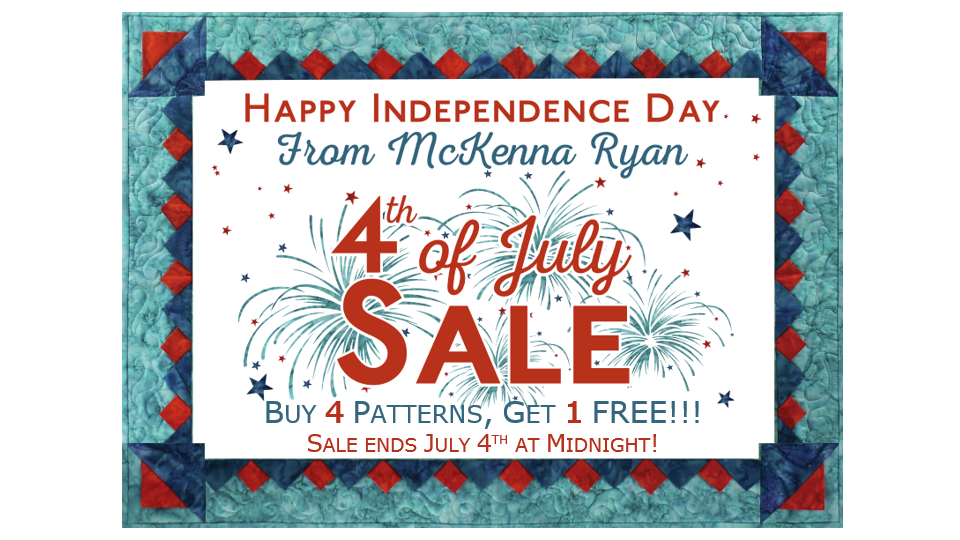 Fourth of July Sale Frequently Asked Questions

How long is this promotion?
The sale ends midnight July 4th (post-fireworks), Pacific Time.

How does the Buy 4-Get 1 Sale work?
Add any 5 individual patterns to your cart. When you check out, your invoice will show the full amount, BUT the total will be adjusted before your order is shipped, and the price of the least expensive pattern will be taken off. Customers paying with credit cards will only be charged the adjusted amount. PayPal customers will receive a refund for the difference.
What about Shipping?
Shipping costs will be based on your original total amount, before the free pattern is deducted.
Do I have to have a PineNeedles.com account to take part in this promotion?
No, but we encourage you to have one! If you have an account, you can collect Rewards Points, track your purchases, and leave reviews on products you love!

Can I buy Gift Certificates, Notions, Embellishments, Fabric, Laser Kits**, or Quilt Hangers with this sale?
You can buy anything you want, but this promotion only applies to patterns.
** A note about Laser Kits: every laser kit includes a pattern, so we will count the patterns as part of the promotion --- you may receive 1 free pattern for every 4 laser kits you purchase.

How do I leave a review?
Logon to your PineNeedles.com account. Navigate to any product page. Scroll down the page until you are prompted to "Share your Knowledge of this Product." Click on the link. It will allow you to rate and review that product.
If you are having any issues, please contact Customer Service by email at info@pineneedles.com or by calling 800-728-2278, Monday-Friday, 9am-5pm!
NOTE: We will be closed the 4th of July.